Will I just got back last Monday from a 2500 mile trip from Indiana to Pikes Peak to watch the race. The 848 may not be the best touring bike, but with a little help it can get the job done. Even did around 800 miles in one day on the way home.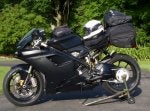 Bike:
1. Custom Aluminum luggage rack to hold the saddle and rear bags
2. Added vinyl wrap to the tank and front end for paint protection
3. Velcroed washers to the gas tank to get the magnetic tank bag to work
4. Dunlop RoadSmart 2 tires. The front looks good but the back is a little flat spotted(should have used a few more pounds of air).
5. AirHawk R Seat Cushion: Could not have done it with out it.
6. Go Cruise Throttle control: Worked OK, usually took several miles of playing with it to get it to hold a constant speed, does not like hills at all.
7. Renthal 32mm Kevlar Grips: I have big hands so these seem to help out.
Luggage and Other:
1. Kirega R25 backpack: Worth its weight in gold. Wore it for 12 hours and it never bothered me. Plus with a built in hydration to help keep cool and to fight fires.
2. Cortech tank bag: had no problems out of it.
3. Cortech Saddle bags: Worked OK, but I am not a big fan of soft saddle bags
4. Chatterbox Duo Bluetooth helmet headphones: Took them off on day one, they were hurting my ears to much
. The Bluetooth also drained the gps battery.
5. Android GPS/Music system: Worked good, only got lost once (mostly my fault).
6. Battery Tender USB Charging Port: Took it off the first day since it would not keep the GPS charged at all.
7. NewTrent 14,000mah USB charging Station: Kept the GPS going for over two days on a single charge
8.JVC Head Phones: Worked well but started to hurt my ears at around 6 hours everyday.
The Trip:
Really it was pretty boring, a lot of interstate miles. On the way out I tried to take some back roads and two line highways, but adding several hundred miles and 4 extra hours was not worth it in the end to ride on a few twisty roads. So on the way home it was all interstate. Illinois was boring for the most part alot of flat straight roads. Got lost in Missouri for about 45mins when my GPS quit working(battery tender charger was not charging at all), and ended up on some dirt roads. Missouri is the only place I have been when you are on a highway (and they use letters instead of numbers) and a sign will come up and saying "State funding end", then it turns into a gravel road. Kansas was super boring and the wind sucked. Going 80mph down the interstate with 50mph cross wind, it kills the neck after an hour or two. Colorado was fairly boring until you hit the mountains.
Pikes Peak:
What a wonderful place, if you got rid of the SUVs and Minivans. The road to the top was slow and very hard on the 848. Most people would
drive in the 10 to 20 mph range and would slow down to 5mph or so for the sharp turns. I Was in 1
st
gear for most of the way and had to slip the clutch a lot in the sharp corners. After I passed Guy Martin riding his mountain bike up the peak, I started passing people and the ride was a lot more enjoyable. It is the only road I have been on that I was
scared of just riding up it. There are a lot of places where there are no guards rails and the road is very narrow, you would fall several hundred feet down a rock cliff. The ride down was very slow for the most part. There was a line of about 15 cars going 10mph, So I just pulled over and waited for 20 minutes or so and then the traffic was thin and actually got to enjoy the road a little.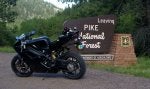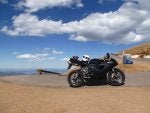 Problems:
1. Luggage caught on fire going down the interstate in Kansas on the way out. Buried up all my clothes and the bag holding it. Had to stop at Wal-Mart and by all new clothes for the trip.
2.Clutch Master cylinder started leaking on the way up Pikes Peak. It leaked going up and down and for around 500 miles on the way home, but now it has stopped leaking. Still going to change it.
3. The Clutch is shot. After 1000 miles or so it was gripping at the end of the lever movement. I tried to re-bleed it and it help a little, but after the trip up and down Pikes Peak it was hard to get it into first gear.
4. Oil filter came loose. I got home from the trip and was starting it up to work on the clutch and oil started dripping out of the bodywork. Took the bodywork off and the oil filter was super loose. I had even used a hose clamp to help keep the filter tight, so I am not sure what happened but the oil level is still reading full.
5. The 848 does not like high altitude at all. At the top of Pikes Peak it did not want to start at all. I had to give it some gas to get it started. After I got it stared it would not rev past 1500 rpms. After a few minutes it finally started to run a little better, but still ran like shit to around 8,000ft.
Over all the trip was fun for the most part. Total trip was around 2500 miles in five days with the longest day being around 800 miles. The people you meet is the best part. I had hard core Harley and Adventure guys asking questions and saying they would not do it on a sportbike. I learned that trips that are over 500 miles, it is all about pain management and just getting to the next gas stop. Also I got around 40 -45 miles per gallon the hole trip except the trip up and down Pikes Peak.