Hello!
Asking $10,500
Located in Manchester, NH
This is the 1198SP with the aluminum gas tank, factory slipper clutch, DQS(Ducati quickshifter), and Ohlins suspension.
I've owned this motorcycle for a couple years and I just don't ride it enough. Its got a few carbon parts including the tail section and the front fender. I bought the Ducati with 7000 miles. It now has 7600 miles. The bike is extremely solid, and I wouldn't hesitate to take take it to the track or on a road trip. This bike is ready to ride. It needs absolutely nothing!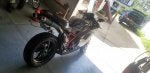 Tons of new/aftermarket parts:
-Rizomo clutch and brake reservoirs
-New front and rear tires with less than 500 miles on them
-Flushed coolant; with straight distilled water and 1/2 bottle of Water Wetter
-Battery replaced last year. Always kept on a battery tender
-CRG clutch lever
-New sprag clutch with upgraded spring and new flange -New Rick's motorsport stator
-Timing belts and valve adjustment was just done
-New fuel pump
-New MOFSET regulator upgrade with triumph wiring harness
-I have new bushings and fork seals, but have not done that yet. I also have the tool to disassemble the forks.
-Plenty of specialty Ducati tools
-4V 7mm shim kit