I have a full fairing set for a Hypermotard 1100/796.
All pieces are OEM and came off my 2008 Hypermotard 1100 with less then 4000 miles of use.
I am also including an OEM painted 1100 SP tank panel as well as the matte plastic tank panel.
All plastics are free of damage or broken tabs except for the small tail piece. 2 of the 4 tabs on that are broken but the tail piece mounts perfectly fine and sturdy using the screw and the other 2 tabs. This is a common thing on this piece for the hyper.
All other pieces have all tabs intact and no damage aside from some superficial scratches to be expected on used pieces.
Pictures will show just how good condition these pieces are. Don't mistake reflections of light as damage. I am more then happy to take any other pics of the pieces if people feel they want a different look.
I have bought and sold a ton of stuff here .. my rep as a buyer and seller speaks for itself.
I am looking to get 525 shipped (paypal as a gift or add 3%) to the lower 48 for all the pieces but please pm me offers as well.
I can be reached at 508 287 5384 as well if you want to talk about the items.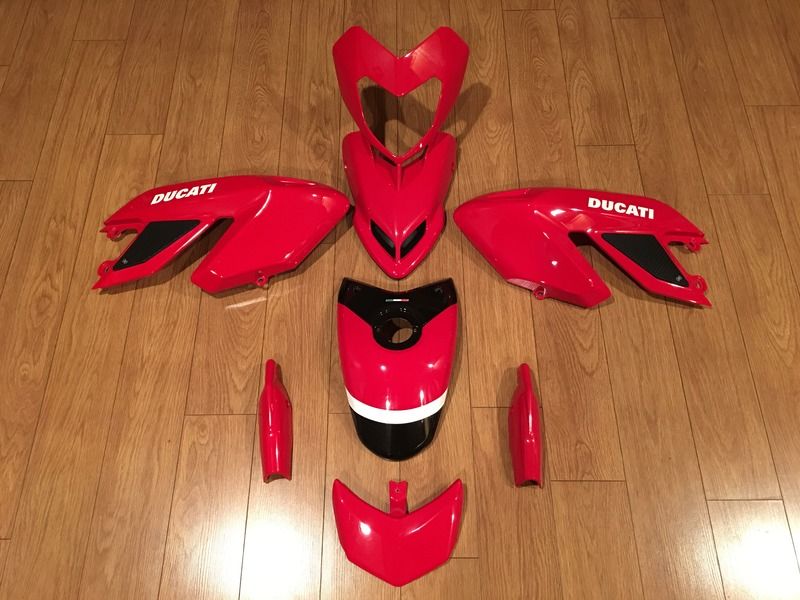 A pic on a rug in the basement to show them in a different light as there was a lot of reflection in the kitchen.