Discussion Starter
·
#1
·
Let's get ready to RUMBLE!!!
On a side note,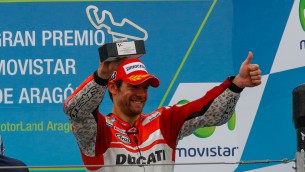 Thursday, 9 October 2014
Following Cal Crutchlow's podium at Aragon last time out, Mike Webb, Race Director of the MotoGP™ World Championship, has clarified the situation regarding concessions relating to fuel, tyres and engines for the Ducati Team.

The Italian manufacturer this season benefit from access to extra soft tryes, a 24 litre fuel limit and use of up to 12 engines per rider, under the Factory Option rules relating to premier class entries who have not achieved a race win in dry conditions during the 2013 season. The concessions would also apply to a new Motorcycle Manufacturer entering the Championship for the first time since the 2013 season, which will be the case for Suzuki in 2015.
The tyre and fuel concessions can be reduced according to race wins and podiums achieved in dry conditions. Ducati have this year achieved one podium in the dry at Austin with Andrea Dovizioso and another in the wet at Assen, also achieved by Dovizioso. Crutchlow's Aragon podium also came in wet conditions, although the race was originally declared dry.
Speaking to motogp.com in the paddock on Thursday afternoon ahead of the Motul Grand Prix of Japan, Webb commented, "We are talking about Ducati now but the way the rule is written it is any manufacturer who hasn't achieved a dry win during the 2013 season and it applies to new manufacturers coming in, so we are talking about Suzuki coming next year, other manufacturers, not only Ducati."
"The agreement that was reached with the concessions they have on tyres, fuel and the number of engines, is slightly different in each case. For the tyres with the extra soft tyre allocation they need to have three dry race wins and then that concession disappears. On fuel they get 24 litres, which would drop to 22 litres if they achieve either one race win, two second positions or any three podiums and we are talking about any rider riding a Ducati, any combination of riders achieving that total, and then Ducati lose that concession."
Webb continued, referring to Crutchlow's Aragon result, "For the purposes of the regulation we are talking about it's wet. So Ducati have achieved one dry podium so far, which was Texas. I declare a race wet or dry at the beginning because it affects how the teams set their bikes up, knowing whether they are going to be able to use the spare bike or not. When conditions change during a race in MotoGP with the white flag I can tell them conditions have now changed which is what happened at Aragon and they are allowed to use the spare bike."
"The way the concessions rule is written about tyres, fuel and so on for Ducati and the other manufacturers says that it applies to results achieved in dry conditions. So it is a little bit different to the race being declared dry at the start. The podium in Aragon was very clearly not achieved in dry conditions."
Regarding engine limits throughout the season, Webb clarified, "In our agreement at the beginning of all of this, when we agreed with the MSMA, what the concessions would be and how they would be limited, there was no limit placed on the engines. For manufacturers without a dry win in 2013 the number of engines is 12 and that concession stays until the end of 2015."